Press Release February 7, 2022
JobTread Software Releases State of the Art Budgeting Solution
Next generation construction management software company helps more than 250 businesses scale and increase their profits in its inaugural year. The Company plans to support over 1,000 businesses by the end of this year.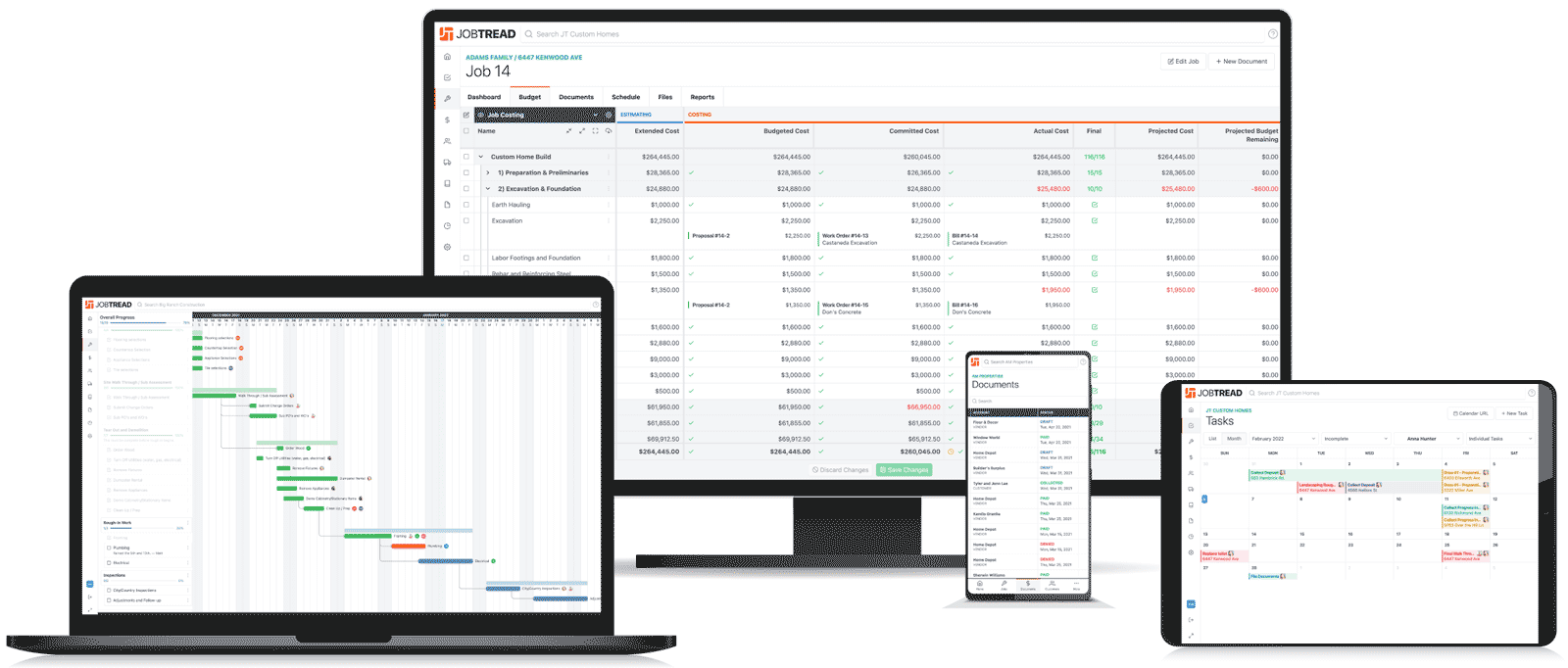 DALLAS, TX | February 7, 2022
JobTread Software was launched in January 2021 as the first all-in-one construction management platform designed with a budget-first approach focused on the financial success of contractors. The Company recently released major updates to its estimating and budgeting solutions, positioning it as a leader in the construction management software industry. The fully customizable tools provide builders and contractors with the power to oversee multiple jobs and manage their financial performance to achieve target profit margins.
According to Eric Fortenberry, Founder and CEO of JobTread Software, "The problem we continually hear in the market is that construction business owners are struggling to accurately budget, price, and schedule their jobs, which in turn makes it very difficult to complete their projects on time and on budget. With our budget first approach, the interactive budget tool serves as the foundation for the entire job including sending bid requests, generating estimates and proposals, managing customer selections and change orders, collecting eSignatures, issuing purchase orders, receiving customer invoice payments, and driving the schedule and tracking work completion. No more crazy excel spreadsheets with complicated formulas or trying to pull data together from across multiple systems."
The beautifully designed budget is easy to use and provides numerous options to analyze job performance in real time. JobTread's cost catalog and project templates simplify the process of creating budgets and automate pricing. In doing so, builders and contractors can more accurately bid their jobs in less time and stay on top of their numbers throughout the course of a project. And the Company's integration with QuickBooks Online and QuickBooks Desktop keeps data in sync between both systems, eliminating any need for double entry.
JobTread's value expands beyond financial solutions. The product is an end-to-end construction management software platform for builders and contractors to more efficiently manage all of their business processes, from sales and estimating through to project completion. Additional key features include CRM, customer and vendor portals, tasks and scheduling, photo and video uploads, and custom user roles and permissions.
"We're not reinventing the wheel, we're creating a better mousetrap. Just about every other competitor in the construction management software space started out with a scheduling feature. While scheduling is vitally important, too many contractors are still struggling to hit their target profits. That's where JobTread comes in. We've built a state of the art budgeting solution that is a game changer for construction businesses. And for the record, we also have a great scheduling component," shares Fortenberry.
The product's robust functionality, combined with its flexibility, speed, ease of use, and first-class customer service have created strong customer reviews. Tony Elliott, Owner of Roseville Kitchen & Bath and one of JobTread's earliest customers, declares "I have worked with some of the most popular software companies out there. They are happy to take your money and explain how to use their system 'their way'. JobTread has done a great job of seeing things through the eyes of a contractor and not through the eyes of a software developer. The only negative thing I can say about JobTread is that I did not find them sooner; it would have saved me hours of frustration and thousands of dollars."
JobTread's leadership team brings a rare combination of residential and commercial construction, financial services, and software development experience that positions it perfectly as an emerging leader in the construction management software market. The Company plans to continue optimizing its products and services and delivering the latest and greatest technology to a market that is asking for a better solution.
"We couldn't be more excited about the opportunities ahead. Our business is growing like crazy and the feedback we have received from our customers has been incredible. We're hiring across all areas of the Company and looking for people as passionate about construction and software as we are to come join us as we continue expanding our footprint," exclaims Fortenberry.
---
About JobTread
JobTread provides end-to-end construction management software to help jobs based businesses more efficiently manage all of their processes, from pre-construction through to project completion. The platform creates a central location to manage jobs, teams, schedules, documents, photos, finances, customers, vendors, sub-contractors, and more all in one place. Its budget-first approach creates financial transparency at every stage of a project, mitigating risk and ensuring the project stays on time and on budget. Get organized, complete your projects on time, and increase your profits with JobTread.
To learn more about JobTread, visit www.jobtread.com or call 972-388-1001.
Follow JobTread online:
Facebook: www.facebook.com/JobTread
Instagram: www.instagram.com/jobtread
YouTube: www.youtube.com/jobtread
Twitter: @JobTread
LinkedIn: www.linkedin.com/company/jobtread

---
Take your business to the next level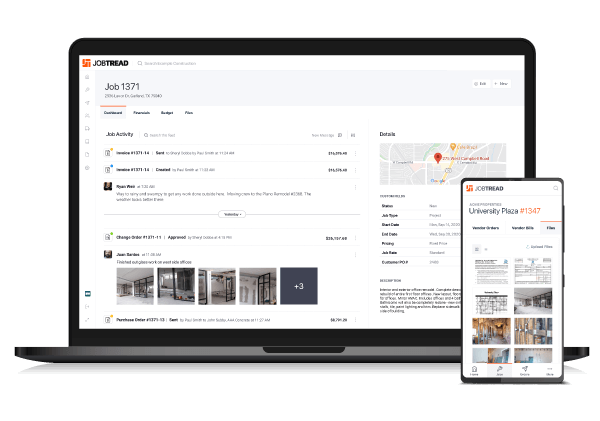 We'd love to show you how JobTread can help you uncover these insights, maximize your potential, and take your business to the next level.
Contact
Taylor Crosby
JobTread Software
12750 Merit Dr #950
Dallas, TX 75251