Press Release July 26, 2022
JobTread Software Partners with Deckorators to Create Best In Class Business Management Platform for Deck Builders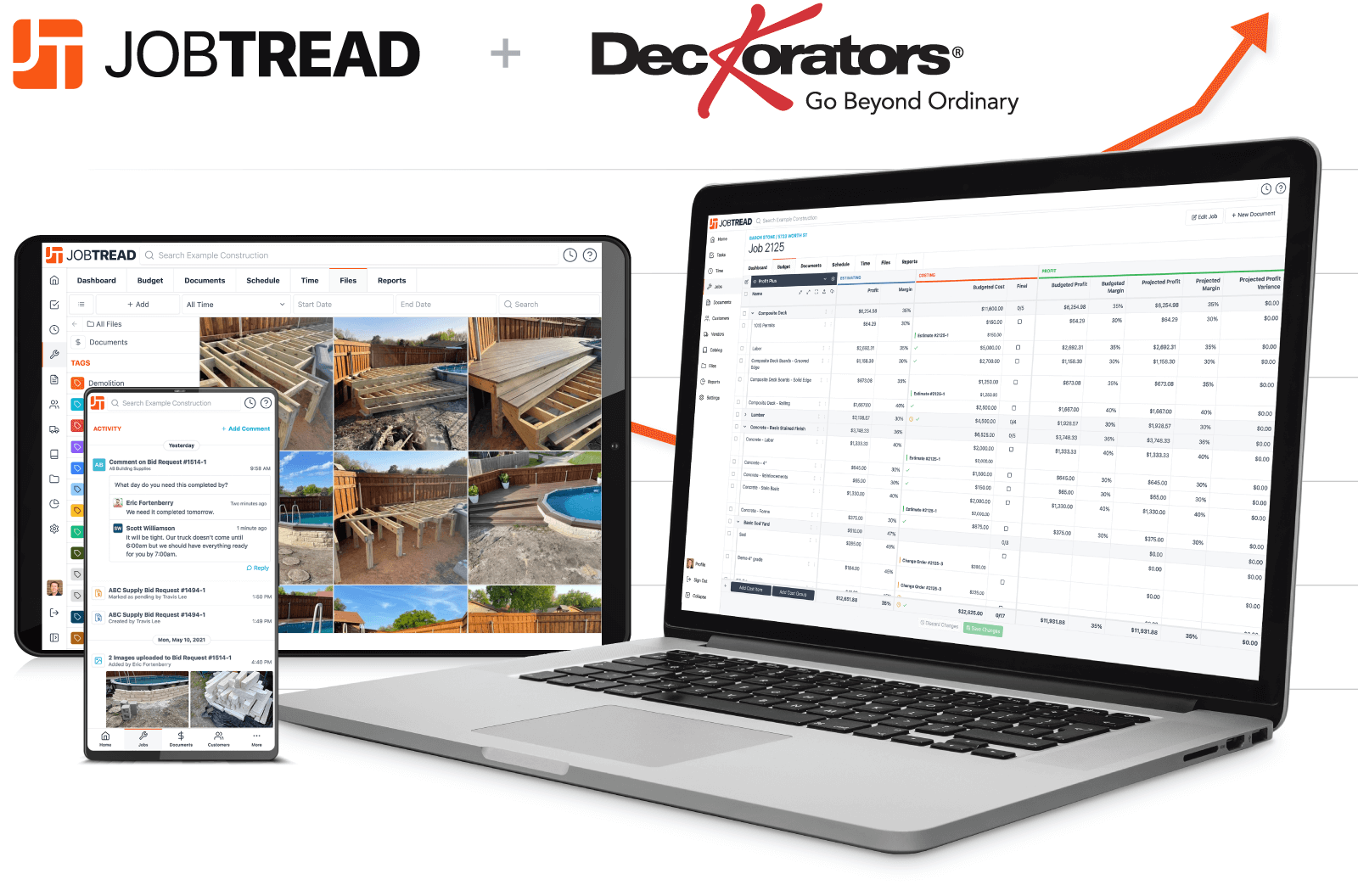 DALLAS, TX | July 26, 2022
JobTread Software partners with Deckorators, a brand of UFP Industries, Inc. family of companies, to provide Deckorators Certified Pros with a software platform to more efficiently and profitably manage their businesses.
The partnership provides Certified Pros direct access to Deckorators' full product catalog along with pre-configured best practices, templates, and industry leading project management tools designed specifically for deck builders.
Deckorators selected a handful of their brand ambassadors to collaborate with JobTread to create industry standards and best practices for running and managing deck building businesses, all of which will be available for use in the JobTread platform.
According to Eric Fortenberry, Founder and CEO of JobTread, "We will be working with the best deck builders in the industry to deliver a variety of best practices and project management templates that Deckorators Certified Pros can use to price their jobs more quickly and run them more profitably. I couldn't be any more excited and grateful for the opportunity to partner with Deckorators. We truly have a win, win, win opportunity for everyone involved, and it's going to be a game changer for the decking industry."
One of Deckorators major initiatives for 2022 was to build a world class contractor program to continue supporting and finding new ways to add value to their contractors' business operations.
"The partnership with JobTread will be a major leap forward in helping our Certified Pros manage and grow their businesses," explains Nick Larr, Deckorators National Contractor Development Manager. "JobTread's product is an end-to-end business management software complete with estimating, job costing, invoicing, scheduling, and a CRM that fits perfectly with our goals for the contractor program."
Key benefits of the partnership for Deckorators Certified Pros include:
Gain access to Deckorators' product catalog and proven project management templates

Increase sales with more professional proposals and faster response times

Upsell additional products by providing customers with optional selections and upgrades

Accurately price jobs and manage costs to achieve desired profit margins

Deliver improved customer experiences through the use of a customer portal for communications, eSignatures, scheduling, online payments, and file and photo sharing
"JobTread allows companies to elevate their entire business. We use it to track our financials, keep up with all of our business updates, and provide our customers with a portal to sign documents and view job progress," states Jason Varney, Owner of DOCK & DECK and one of Deckorators' brand ambassadors.
Deckorators Certified Pros will receive a discount on their JobTread subscription. Contact JobTread if you are interested in taking advantage of the benefits of this partnership.
---
About JobTread
JobTread provides end-to-end construction management software to help jobs based businesses more efficiently manage all of their processes, from pre-construction through to project completion. The platform creates a central location to manage jobs, teams, schedules, documents, photos, finances, customers, vendors, sub-contractors, and more all in one place. Its budget-first approach creates financial transparency at every stage of a project, mitigating risk and ensuring the project stays on time and on budget. Get organized, complete your projects on time, and increase your profits with JobTread.
To learn more about JobTread, visit www.jobtread.com or call 972-388-1001.
Follow JobTread online:
Facebook: www.facebook.com/JobTread
Instagram: www.instagram.com/jobtread
YouTube: www.youtube.com/jobtread
Twitter: @JobTread
LinkedIn: www.linkedin.com/company/jobtread

---
About Deckorators
Deckorators, the first name in decking, railing and accessories and the originator of the round aluminum baluster, is a brand of UFP Retail Solutions, LLC, a UFP Industries company. Deckorators started the low-maintenance aluminum balusters category with the Classic Series and has since led the industry with many new and innovative decking and railing products. Its approach to developing exciting and distinctive products allows both DIYers and builders to bring the personal creativity of interior design to outdoor living.
---
Take your business to the next level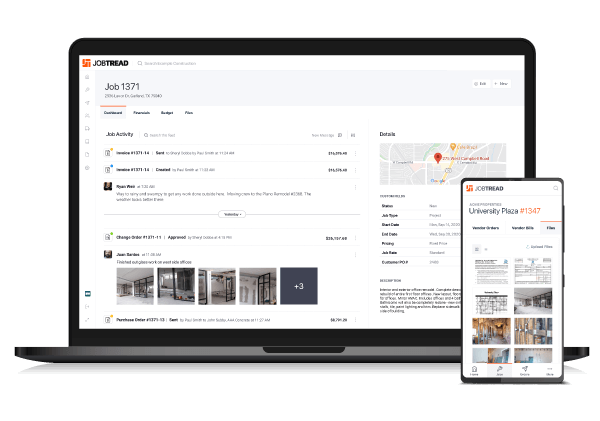 We'd love to show you how JobTread can help you uncover these insights, maximize your potential, and take your business to the next level.
Contact
Taylor Crosby
JobTread Software
12750 Merit Dr #950
Dallas, TX 75251