Press Release December 2, 2022
JobTread Software and Acorn Finance Partner to Deliver Consumer Financing Marketplace for Residential Construction
JobTread Homeowner Financing powered by Acorn Finance empowers remodelers and other home improvement contractors to offer point-of-sale financing for homeowners.
Dallas, TX | December 2, 2022
JobTread, an innovative B2B construction management software company, and Acorn Finance, the world's first embedded homeowner financing marketplace, have partnered to launch JobTread Homeowner Financing powered by Acorn Finance. The new functionality gives contractors who use JobTread the ability to offer their customers access to Acorn Finance's marketplace for funding options up to $100,000, at no cost to the contractor.
"As a contractor, you want to provide the best possible experience for your customers," said Eric Fortenberry, CEO of JobTread. "With Acorn Finance's homeowner financing options integrated directly into our estimates and invoices, we can help consumers investing in their homes purchase higher value jobs and help contractors using JobTread increase their sales and grow their businesses."
The new consumer financing option from JobTread addresses a common pain point facing both contractors and their customers: easy access to the right financing at the right time. Research has shown that if consumers have access to financing when exploring home improvement projects, they are more likely to move forward because financing can make projects more immediately affordable and enable better outcomes. That means offering financing can help contractors increase their average job size and close more deals.
"JobTread's innovative software platform has made for an easy partnership," said Giri Addanki, founder and CEO of Acorn Finance. "We have a shared vision of leveraging technology to improve homeowners' access to easy payment options with lower rates, while helping contractors improve the customer experience and grow sales at no additional cost to them."
The partnership brings together two technologically progressive companies, aligning JobTread's advanced approach to automating tasks and improving processes for contractors with Acorn Finance's ability to embed its financing marketplace platform in contractors' estimates and invoices.
Through JobTread's Homeowner Financing, when a contractor prepares an estimate for a project, they'll be able to seamlessly offer access to financing options from Acorn Finance's network of 12+ homeowner financiers. Through an easy online application process, homeowners will receive competitive financing offers (amount, rates, and terms) within minutes. Once executed, funds are delivered to the homeowner in as few as 24 hours.
Hands-on, one-on-one support and training from real contractors is available through both JobTread and Acorn Finance so contractors can get expert sales guidance and questions answered by advisers familiar with their challenges, opportunities, and daily experience.
The consumer financing options will be available to all JobTread users and their customers in the United States. The company plans to make financing available in Canada in 2023.
Visit www.jobtread.com/acorn-finance for more information about the partnership.
---
About JobTread
JobTread provides end-to-end construction management software to help jobs based businesses more efficiently manage all of their processes, from pre-construction through to project completion. The platform creates a central location to manage jobs, teams, schedules, documents, photos, finances, customers, vendors, sub-contractors, and more all in one place. Its budget-first approach creates financial transparency at every stage of a project, mitigating risk and ensuring the project stays on time and on budget. Get organized, complete your projects on time, and increase your profits with JobTread.
To learn more about JobTread, visit www.jobtread.com or call 972-388-1001.
Follow JobTread online:
Facebook: www.facebook.com/JobTread
Instagram: www.instagram.com/jobtread
YouTube: www.youtube.com/jobtread
Twitter: @JobTread
LinkedIn: www.linkedin.com/company/jobtread

---
About Acorn Financial
Acorn Finance is the world's first embedded marketplace for home improvement financing, driving better outcomes for borrowers, contractors and software vendors. Borrowers can shop for the best rates from the best homeowner financing options, all within a few seconds and fewer clicks. Point-of-sale homeowner financing can reach more homeowners while testing the ideal rates for optimum engagement. Contractors can increase sales by offering financing to customers at no extra cost to themselves. Lastly, software vendors to the home improvement industry can add value for contractors and enhance homeowners' buying experiences by embedding Acorn Finance's solution within their products' estimates and invoices.
For more information, visit www.acornfinance.com.
---
Take your business to the next level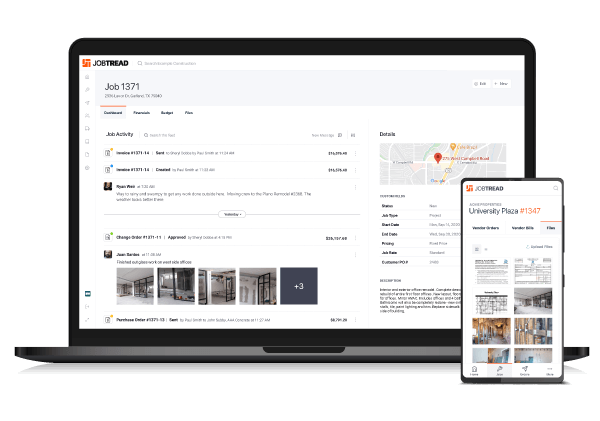 We'd love to show you how JobTread can help you uncover these insights, maximize your potential, and take your business to the next level.
Contact
Taylor Crosby
JobTread Software
12750 Merit Dr #950
Dallas, TX 75251