Press Release July 31, 2023
JobTread Rated #1 Construction Management Software by Software Advice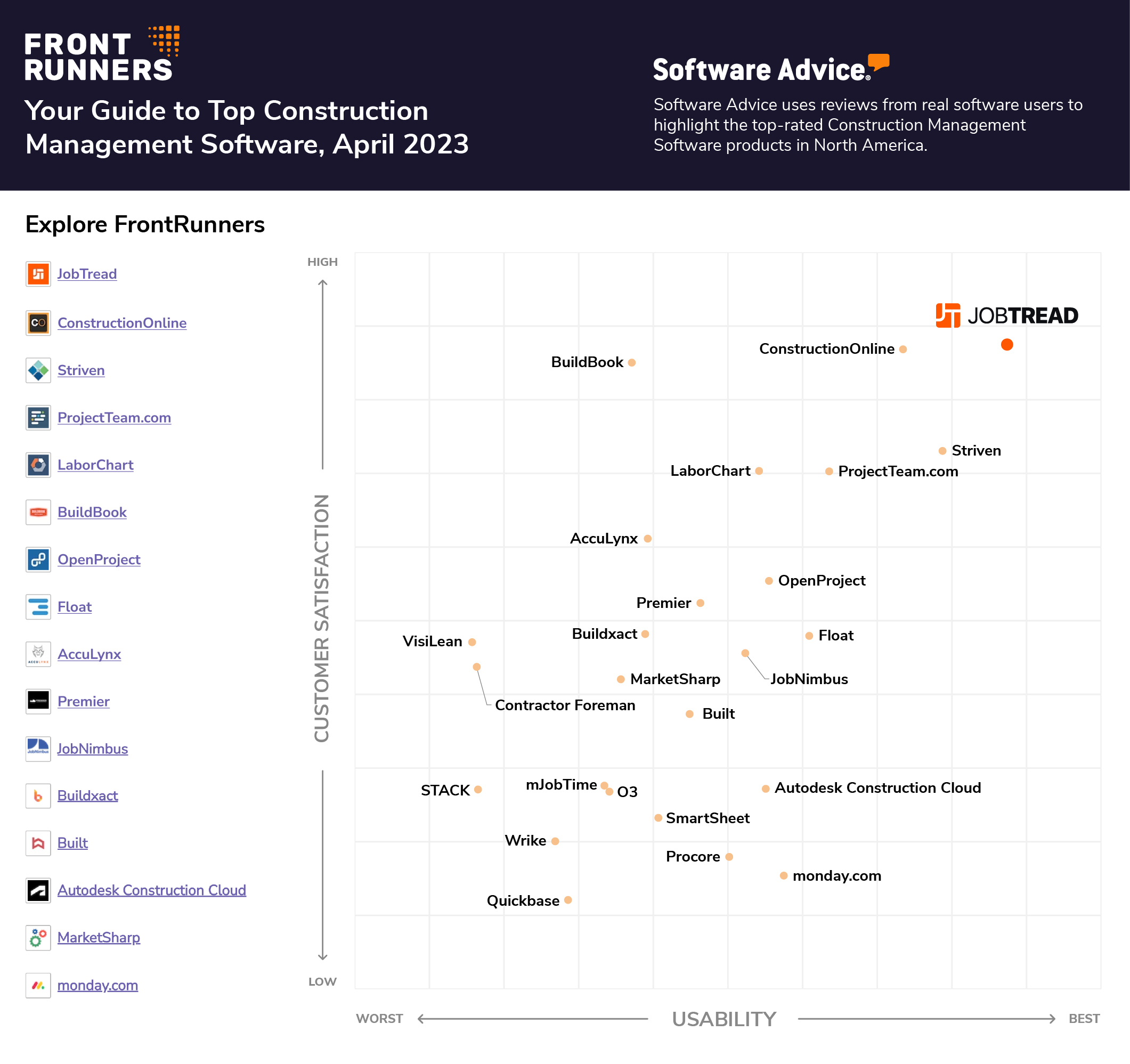 Dallas, TX | July 2023
JobTread Software has been distinguished as #1 FrontRunner in Software Advice's Top Construction Management Software category. This recognition places JobTread at the forefront of more than 400 other construction software products, spotlighting its outstanding user experience, comprehensive functionality, and high levels of customer satisfaction.
Not only has JobTread clinched the top spot in the Construction Management category, but the Company also recently ranked #1 in the Construction Estimating Software category. These dual honors confirm JobTread's position as the leading innovator in the construction software space.
Software Advice's FrontRunners methodology is a rigorous standard that acknowledges only the top-performing software products based on genuine user reviews and data comparisons. To qualify for consideration, each product must have accumulated at least 20 unique user reviews in the previous 24 months, function as a stand-alone Construction Project Management software product or offer similar functionalities within a suite, and cater explicitly to the Architecture, Engineering, and Construction (AEC) industry by providing crucial features such as scheduling, project tracking, and document management.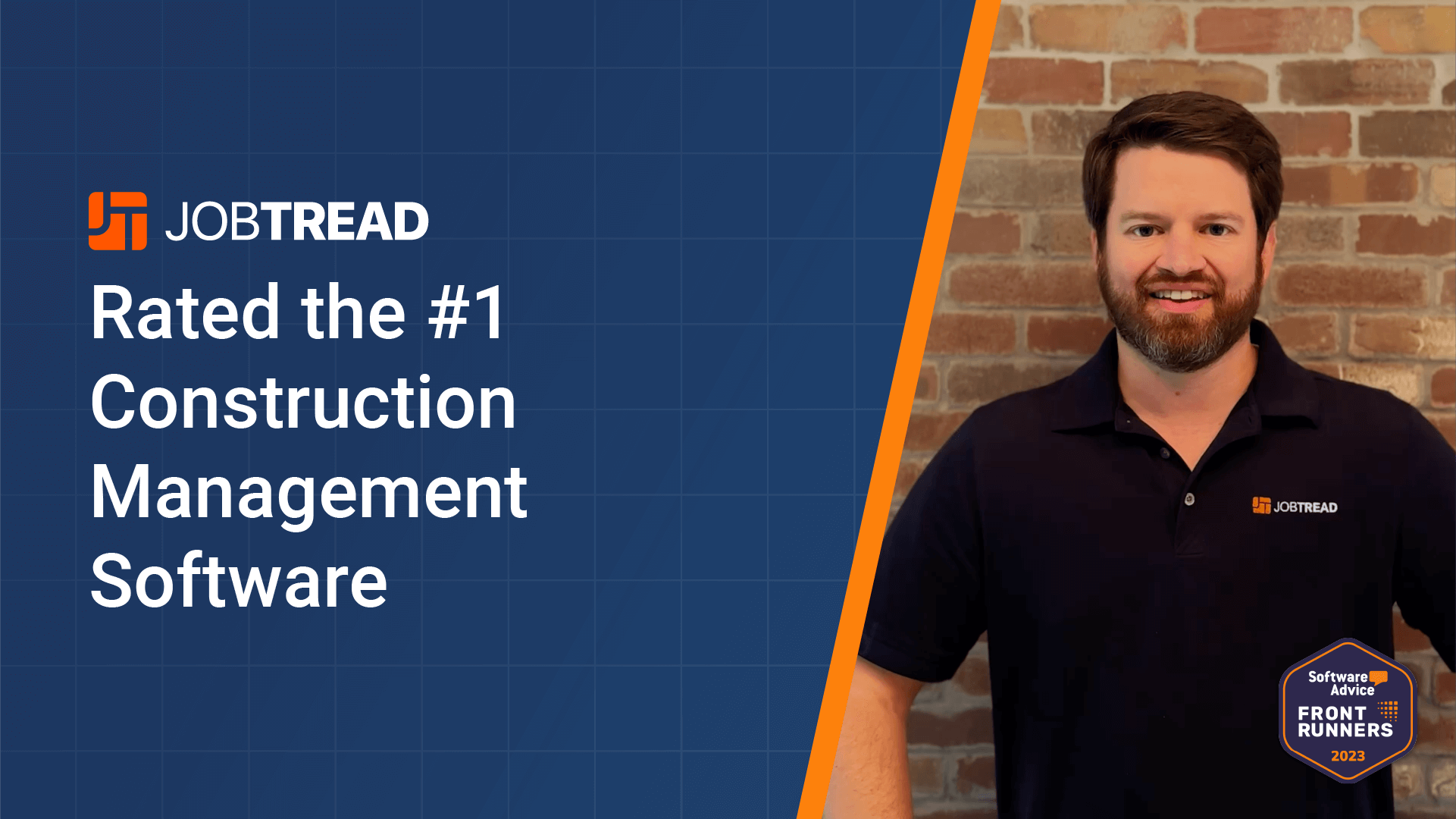 "Being recognized by Software Advice as the top rated construction estimating and project management software is a strong testament to our dedication and focus on delivering the highest quality product and service in the industry," shares Eric Fortenberry, Founder & CEO of JobTread. " It's a proud moment for the entire JobTread team as we continue our mission to become the new standard for managing construction projects."
The Software Advice FrontRunners distinction marks JobTread as an industry leader, raising the bar for innovation, ease of use, and customer service in the construction technology.
About Software Advice
Software Advice helps businesses navigate the software buying journey. Industry-specific advisors guide people through the selection process and provide personalized software recommendations. Founded in 2005, Software Advice has helped more than 825,000 businesses find the right software for their specific needs through 1-on-1 advice, objective research and actionable insights. Software Advice also features over 1 million verified user reviews to ensure people feel confident in their technology decisions.
---
About JobTread
JobTread provides end-to-end construction management software to help jobs based businesses more efficiently manage all of their processes, from pre-construction through to project completion. The platform creates a central location to manage jobs, teams, schedules, documents, photos, finances, customers, vendors, sub-contractors, and more all in one place. Its budget-first approach creates financial transparency at every stage of a project, mitigating risk and ensuring the project stays on time and on budget. Get organized, complete your projects on time, and increase your profits with JobTread.
To learn more about JobTread, visit www.jobtread.com or call 972-388-1001.
Follow JobTread online:
Facebook: www.facebook.com/JobTread
Instagram: www.instagram.com/jobtread
YouTube: www.youtube.com/jobtread
Twitter: @JobTread
LinkedIn: www.linkedin.com/company/jobtread

---
Take your business to the next level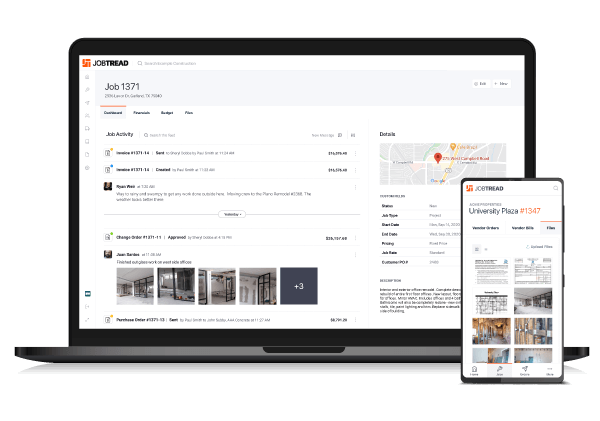 We'd love to show you how JobTread can help you maximize your potential, and increase your profits. Schedule a demo today!
Contact
Taylor Crosby
JobTread Software
12750 Merit Dr #950
Dallas, TX 75251