Construction Estimating Software
We Make Estimating Easy
With JobTread, estimating jobs has never been easier. Increase your win rate by delivering well-designed proposals faster and with improved accuracy and professionalism.
Request a Demo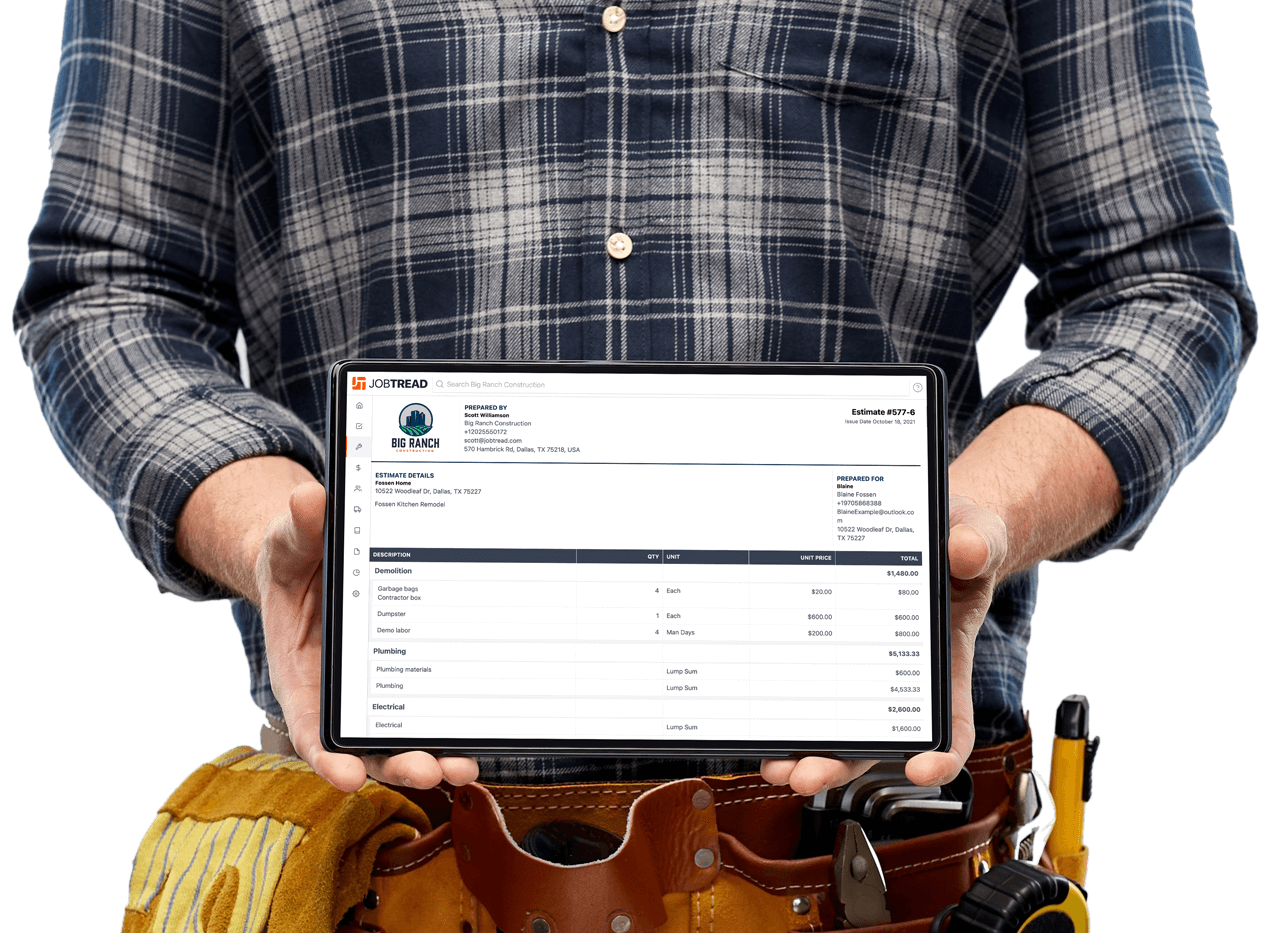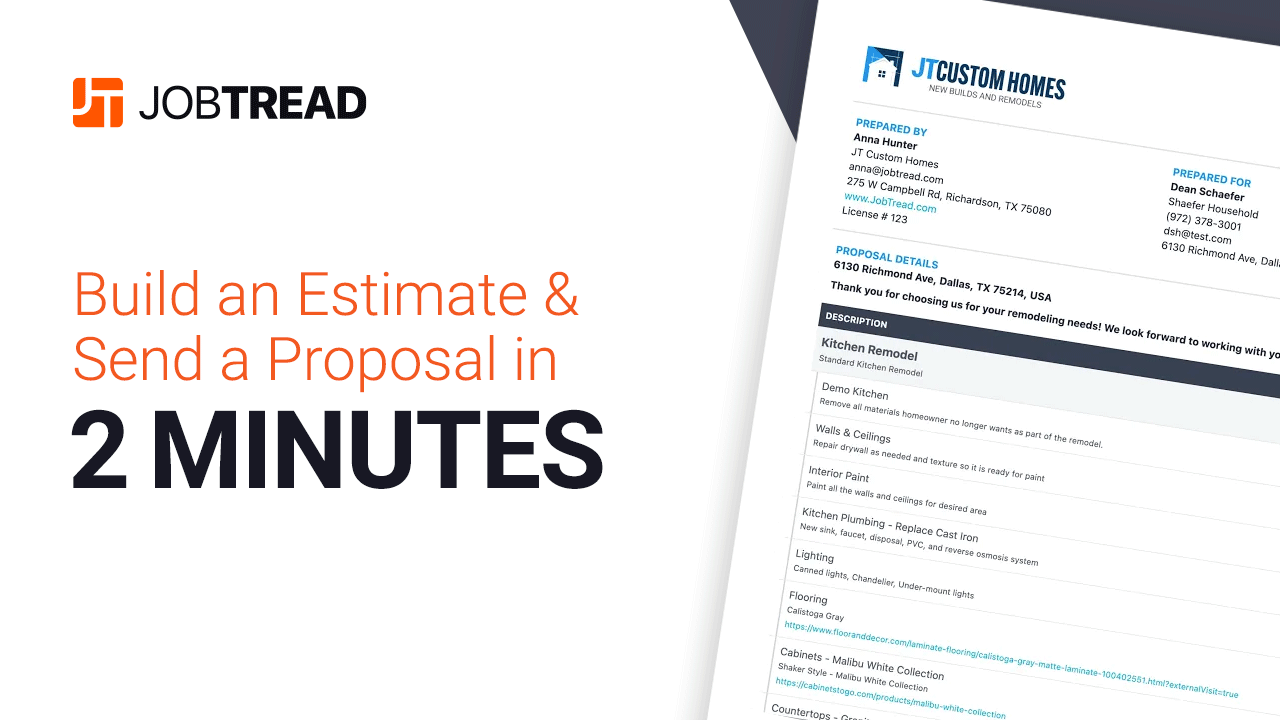 Estimate Faster
Build Your Estimates Faster
We know you'd rather be on the jobsite than behind a keyboard, so we've made the process of creating estimates and delivering professional looking customer proposals easier than ever before.
Pull Directly From Your Budget

Quickly generate estimates with prices that tie directly to your budget. Simply select the items you want included on your estimate and you are done. It's that simple.

Create It Once, Use It Again

Upload price lists into your JobTread catalogue and create templates for your estimates that can be reused over and over again.
Formulas & Parameters
Streamline your material takeoff and expedite project planning with formulas and parameters.
Budget Templates
Create budget templates for your most common projects that can be reused over and over again.
Bid Requests
Create, send, and collect bid requests from vendors to ensure you have accurately budgeted job costs.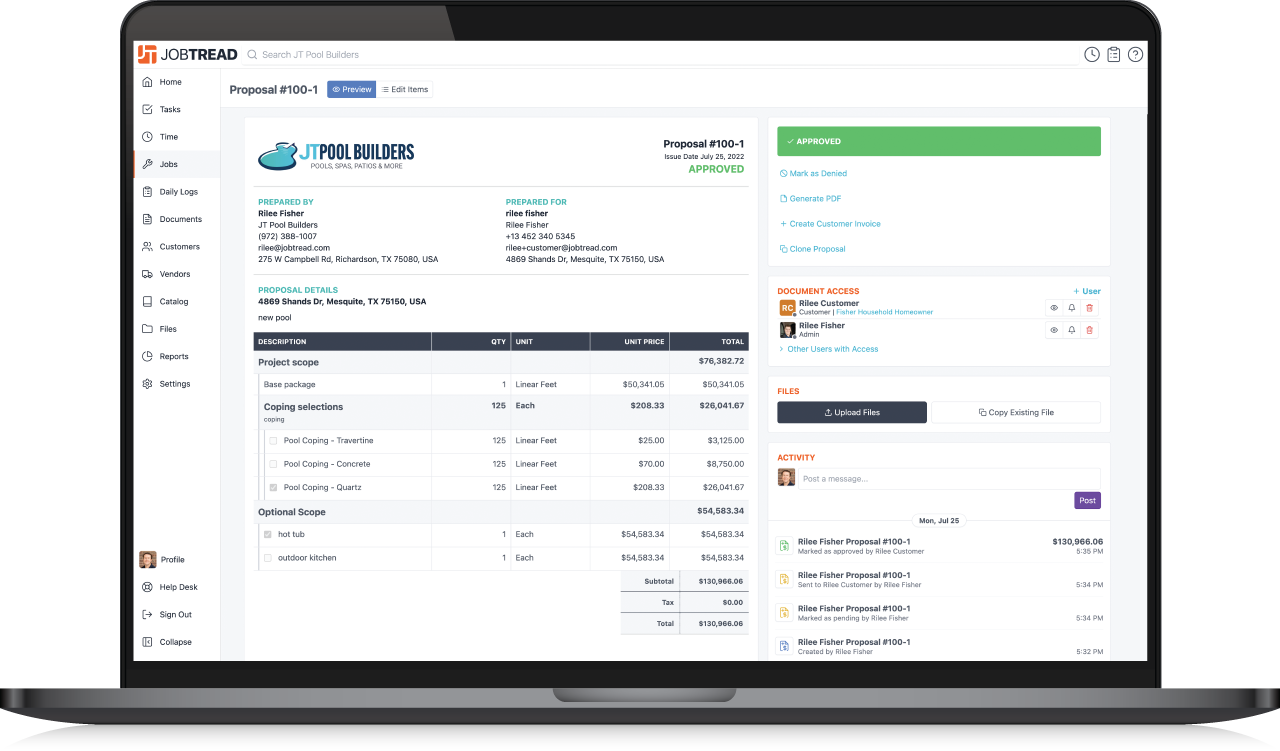 Don't Miss Any Costs
Estimate More Accurately
With JobTread, estimating jobs has never been easier. Increase your win rate by delivering well-designed proposals faster and with improved accuracy, transparency, and professionalism.
Eliminate Manual Calculations

Sales prices are automatically calculated from your budgeted cost and include your company's target profit margins, eliminating the manual back of the napkin calculations used by so many sales people.

Keep Your Data In Sync

End the mistake ridden double-entry between systems and spreadsheets by seamlessly tying your estimate to your budget, bids, and invoices. Oh, and let's not forget your accounting system.
Track Estimate Versions
JobTread creates a unique document number for each estimate that ties to your job so you can easily identify the correct version and track all changes for historical purposes.
Don't Miss Any Costs
Build budgets using cost templates and pull directly from the budget to create your estimate. JobTread derives every estimate line item directly from your budget to ensure no costs are forgotten.
Hit Your Target Profit
Whether you are using fixed pricing, cost-plus, time and material, or any other method to determine your end price, JobTread makes it easy to ensure your estimate will meet your desired profit goals.
Eliminate the Back and Forth
Elevate Your Customer Experience
Not only are estimates essential to winning new business, they also bring transparency to all stakeholders. JobTread will help you improve your customer experience, meaning more repeat business and more referrals.
Deliver Beautiful Proposals

Stand out from the competition with professional, beautifully designed proposal templates that will be sure to wow your customers.

Collect Digital Customer Approvals

Allow your customers to accept, deny, or request changes for your proposals and automatically track them back to the budget. Convert proposals to agreed upon contracts with esignatures.
Simplify Customer Selections
Allow your customers to make selections without all the back and forth. Set agreed upon allowances for items that are not yet known and enable the customer to make their own selections.
Attach Any File Types
Provide all the extra details and transparency your customers may need by attaching important documents, images, and even videos directly to your estimates.
Share All The Details… Or Not
Too much information can be overwhelming while too little can cause confusion. Customizing the level of detail to include on your estimates is easy with JobTread.
Our customers love JobTread! But don't just take our word for it.
Rated 5 Stars on Capterra for Ease of Use, Customer Service, and Value for Price!
Rod Battle
Battle Home Renovations
"
JobTread has been a Godsend for me. It saves me so much time and cuts down on my estimating time exponentially. Previously, it took me 5-6 hours to do a 9-page estimate... now it only takes me 1 hour to make the same kind of estimate.
"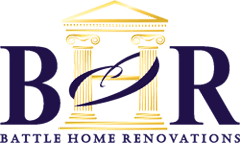 Oscar Lazos III
Major League Home Services
"
I used to spend 2-3 hours trying to create a professional proposal. Now that I have JobTread, it only takes 5-10 minutes to put a highly professional proposal together. It has been amazing.
"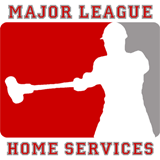 Matt Hankins
Hankins Decks, LLC
"
With JobTread, vendor organization is so easy. You can keep track of vendor insurance, upload documents, and also request bids, work orders, and purchase orders.
"

Ready to take your business to the next level?
Explore it for yourself or let one of our knowledgeable staff members show you how.